I sing in a women's chorus here in Tucson, the Arizona Women's Chorus. One of the songs we're singing this season is Homeland. The words are by Sir Cecil Spring-Rice and Z. Randall Stroope, with music by English composer Gustav Holst (1874 – 1934). I am most familiar with Holst's orchestral works, especially The Planets. The seven movements of this orchestral suite are named after planets in our solar system.
The Movement of the Planets 
Before I moved to Arizona, I had sung in a performance of The Planets. In the final movement, Neptune, an offstage female chorus sings a wordless line. It was a memorable experience.
The current choral piece, Homeland, uses the "Jupiter" theme. This song became a popular British patriotic song. Homeland was sung at the wedding of Prince Charles and Lady Diana Spencer. Sadly, it was also played at Princess Diana's funeral.
Holst and his music were on my mind as I returned to my car after singing at a senior living community. I had parked near some sculptures at the Hacienda at the Canyon. I'd rushed past them before the concert, because I didn't know where I needed to be. However, I could take time to admire them on the way out.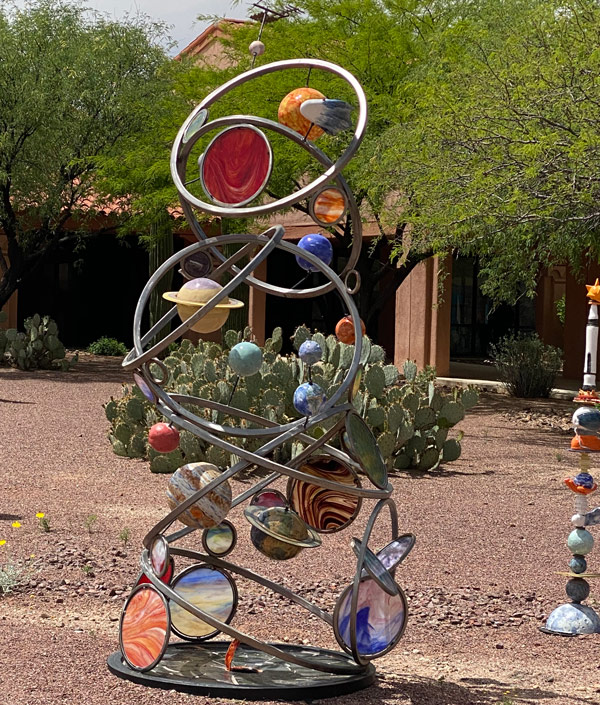 It's the planets, moons and even a comet. Quite appropriate for the Holst's music I'd just sung. I really like the composition of this sculpture. Unfortunately, I don't know the identity of the sculptor.
Additional pieces nearby were also interesting, although I didn't care for them as much as the planetary representation. Maybe if I had been singing about space aliens, I would have liked them better.
Other Celestial Works
I have sung a choral arrangement of "The Purple People Eater," but no other alien-themed songs. The purple people eater had only one eye, while these aliens have the typical elongated head with two large eyes, more like the aliens in the Close Encounter of the Third Kind. Some great music is included in that movie. As a matter of fact, it's how the humans and aliens communicated. Quite appropriate.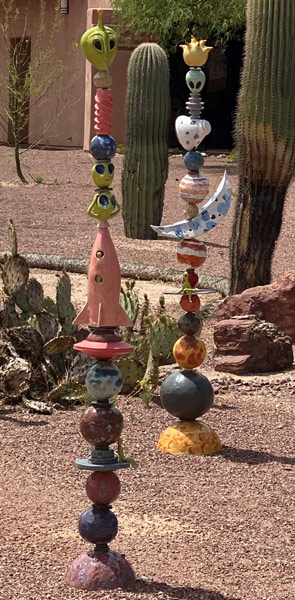 In New Jersey, I lived in the town made famous by Howard Menger. Menger claimed that he had been visited by extraterrestrials repeatedly since his childhood in High Bridge. He wrote a couple of books and was a frequent guest on shows in the 1950s. I had the opportunity to speak with him when I was writing a parody about his alien interactions for a audio theater script. He graciously encouraged me in my endeavors.
For now, I prefer to contemplate on the planets, whether they be musical, sculptural, or in the night sky.