Susan Glynn Mulé is originally from New Orleans,  but after Hurricane Katrina in 2005, she and her family ended up in the Houston area and decided to stay. Susan has a master's degree with 30+ years in Education, and a Reading Specialist degree from the University of New Orleans.
Susan grew up with animals, including reptiles. After her marriage to Mike Mulé in 1990 and the birth of their only child, Elizabeth, the family continued to keep reptiles and other animals. Susan owned and operated a company called Suburban Safari, Ltd., with a former business partner, Liz Jordan. Susan and Liz provided schools and other groups with educational animal presentations, which included a rotating assortment of reptiles, birds and mammals.
While homeschooling her daughter, Susan also served on the boards of Learning Adventures of Fort Bend and Texas Parents of the Profoundly Gifted. Susan has been an active member of various conservation groups which focus on reptiles and arachnids.
After being widowed in 2015, and around the same time her daughter fledged the nest, Susan returned to the workforce.  She currently holds the position of Parish Library Coordinator for St. Laurence Catholic Church and supplements her salary as an Executive Consultant with Rodan and Fields skin care products.  In 2016, Susan took up her lifelong dream of writing for children with her book Princess Tien, published by Lyric Power Publishing, and is in the process of creating new stories.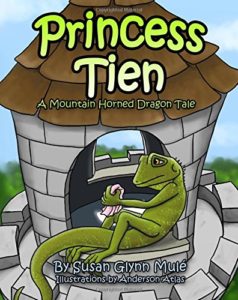 Tien, a Mountain Horned Dragon, is taken from her home in Vietnam and crammed into a cage at a pet store. One by one her friends are sold, but what about her? Will she find a good home? Will Princess Tien live happily ever after? Also included: Facts about Mountain Horned Dragons, a plea for responsible care and Mountain Horned Dragon Dealer information.