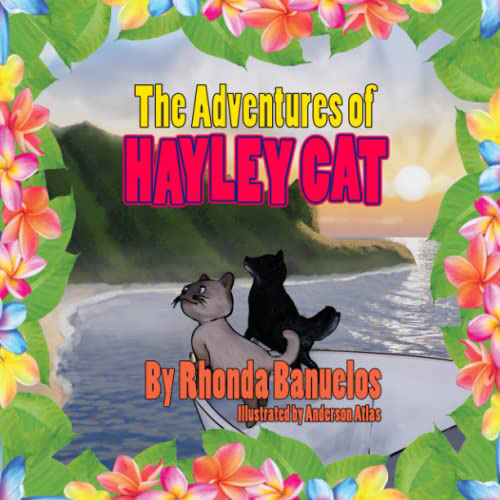 I'm thrilled to announce the release of book four in my series The Adventures of Hayley Cat. In his latest adventure, Hayley travels to the Garden Isle of Kauai. One of my greatest passions is writing children's books, and I'm delighted to share my newest story with you and your family.
A Series Recap
You may recall that in book one, Hayley's adventure begins in Oahu, Hawaii when he meets a special dolphin friend. Book two sees Hayley travel to the big island of Hawaii to visit Shetland ponies living on a ranch. Haley visits the mainland in book three as he journeys to the San Juan Islands in Washington state. There he spies orca whales and even meets a famous harbor seal.  
And now, in book four Haley has returned to Hawaii and travels to the Garden Isle of Kauai. There he attends the Coconut Festival and meets one of the guitarists.
Every day Hayley Cat looks forward to meeting animals and people and forming new friendships. It's an important part of life as we learn and grow from relationships with each other. In addition, celebrating life and cultural events with others allows us to embrace our happiness. Each book promotes the Aloha Spirit.
The Real-life Hayley Cat
The Adventures of Hayley Cat was inspired by the real-life Hayley Cat, who I adopted from the Oahu Humane Society. I also included my rescue dog Foxy as one of the characters. She's a happy-go-lucky dog with a gentle spirit and warm smile that greets you each day. She's a delightful companion for me and a perfect addition to Haley Cat's story family. 
Welcome Anderson Atlas!
In this story, Haley is brought to life by Anderson Atlas, my new Illustrator. Anderson instills flair and superb digital imaging as he depicts the aloha style and messages that Hayley Cat conveys to each reader. I'm very thankful for his collaboration in this project. 
I hope these books inspire you to visit the Hawaiian Islands, seek new cultures, explore new lands, make new friendships, and enjoy animals in their habitats. Most of all, I hope to provide Hawaiian Style sweet dreams to encourage the bond between parent and child. 
Aloha!
The Adventures of Hayley Cat, Book Four: Hayley Cat Travels to the Garden Isle of Kauai is now available on Amazon.