Mauna Loa
When I was in high school, I participated in a summer study program on the Big Island of Hawaii. While studying animal behavior, we also had the opportunity to visit incredible sights on the island. One of our adventures was to camp on the side of Mauna Loa in a cabin. During the day, the entire island had been rocked with multiple earthquakes, 26 in the previous 24-hour period. All the volcanoes monitored on the island were "swelling," so everyone expected something was going to erupt. The most likely candidate was the currently active volcano, Kilauea.
We arrived at the cabin after a day of visiting the historical sites only to discover that not all of us fit in the cabin. There weren't enough beds or even space for on the floor for sleeping bags. So, some of us "heartier" students volunteered to sleep outside under the stars. It would be chilly, but we were from states that had winter, and we would be okay.
The stargazing was incredible, and we couldn't settle down to sleep. There, at the top of the summit of Mauna Loa were flames! It started as a narrow line. Then the flames filled to the top of the volcano.  Mauna Loa was erupting. It had not erupted for 65 years.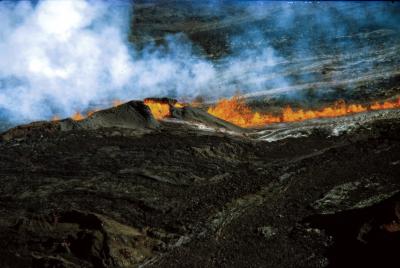 We pounded on the cabin door to wake our classmates. We ran around the campground yelling, "Mauna Loa is erupting!" Some campers came out to look, but most told us to, "Shut up!" Boy, were they mad the next morning when they realized that Mauna Loa had erupted and they'd missed it.
Our camp leaders thought about driving up to the top of the volcano for a closer look. Hawaiian volcanoes have a caldera that fills with lava before it slops over the side. But the van was nearly out of gas and lava flows at 30 mph, which is faster than we could run (if necessary).
That 1975 eruption burned the observation platform on the side of the caldera and added one more foot of land to the island.
This was my first up-close natural disaster–but not my last.
Elaine A. Powers loves island adventures. She has written fun, adventure-based science books for children set in the Bahamas.