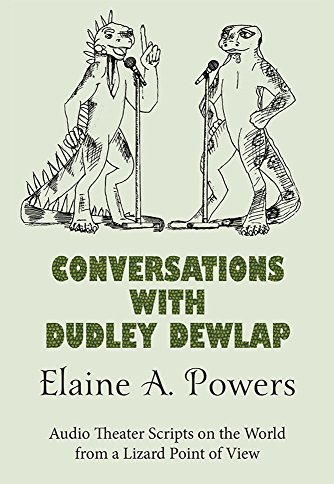 I'm a retired biologist and I enjoy teaching children and consequently, adults, about science. Science education doesn't have to be dry and tedious. I like to be creative, so I write rhyming picture books and adventure tales, in the hopes of slipping in facts while the reader enjoys the story.
However, my writing career didn't start with the books for sale on this website. It actually started with radio/audio theatre scripts and a couple of talkative lizards.
Have you met Dudley or Didi Dewlap? Or Miles or Molly Monitor?
Dudley and Didi are green iguanas, known for being rather self-absorbed but energetic talk-show hosts.
Miles and Molly are water monitors, much more down-to-earth lizards, the perfect sidekick for an iguana. Did you know that green iguanas are arrogant and according to a pet psychic, that they want to take over the world? Not sure how they intend to do this, but it will be interesting to see them try.
In the meantime, Dewlap and Monitor discuss the world from the lizard point of view, and they include the pet psychic, witchcraft and the soccer World Cup in their musings.
The scripts in this book are written in talk-show style and they provide a great deal of information in a very humorous fashion. Not only is the news of the day discussed, but classic works of literature are discussed . . . by lizards. And by the way, they're "political activists," too. Reptilian politics, that is.
NOTE: Conversations with Dudley Dewlap: The World from a Lizard Point of View is a collection of short comedy, small cast, audio scripts. Most roles are gender neutral. The primary characters are talk-show hosts who discuss various amusing topics. The scripts can be combined or used individually. Additional cast can be used for sound effects. Along with being entertaining and family friendly, many of the scripts are also educational. The scripts are amenable to radio theater, readers' theater, or may be adapted for stage. Approximate running times vary with the scripts ranging from five to 20 minutes. Performance rights are included with the sale of the book–as many times as you'd like!