Every day I travel through the northern Tucson area to be with my horses at their training facility. My preferred route takes me by a high school. Typically, I'll come across a few students coming and going and a lot of parked cars lining the street. However, one day not too long ago, I saw something that made me do a double-take. It was a dinosaur… walking amongst the students! I know. I was just as shocked. Read on to learn more about this dinosaur walking among us.
It's Not What You Think (Or Maybe It Is) 
It was a Tyrannosaurus-rex to be exact. And it was waiting to cross the road. When the light changed, the dinosaur joined the students in properly using the crosswalk. 
The other pedestrians didn't seem to be alarmed by the T-rex walking among them. Many of them seemed to be ignoring it or focused on their cell phones. I was impressed that the wobbling fossil obeyed all the traffic rules, only crossing the street when the WALK sign was illuminated. I wouldn't have been surprised if the T-rex had used its fearsome appearance to scare the cars into stopping, and then crossing defiantly in front of them. Unfortunately, I didn't see where the T-rex ended up. The light changed and I had to turn in the opposite direction. Perhaps the T-rex was heading to the nearby McDonalds for a bite to eat? Good thing he wasn't in the mood for a meal of high school students.
The Big Reveal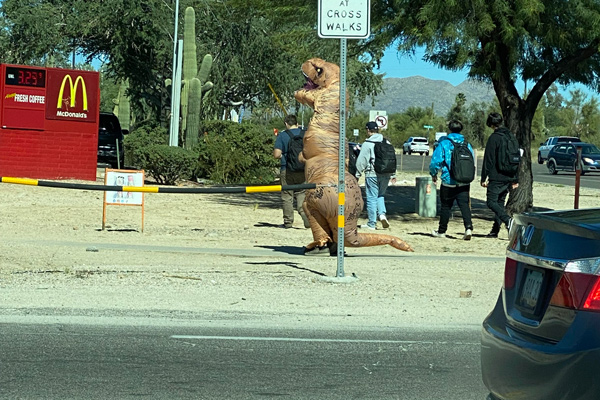 Okay, you got me. It wasn't a real dinosaur. And to be honest, a T-rex walking along the road isn't an out-of-place thing here. Tucson is known for dinosaurs. Another T-rex hangs out at a McDonalds on the corner of Kolb and Tanque Verde. This popular landmark is sixteen feet high and forty feet long. He even complied with the mask mandate by sporting a mask decorated with little dinosaurs. 
Dinosaurs Around T-town
It's not just T-rexes running around. Dinosaurs have also been sighted at other locations in Tucson. This velociraptor was seen at the Tucson Botanical Gardens, where I got the inspiration for How Not to Photograph a Hummingbird.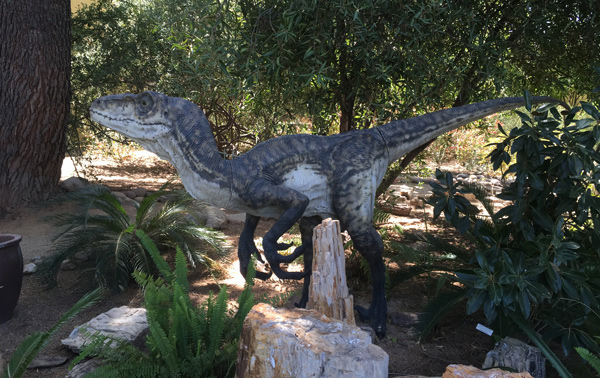 Each year in Tucson is the massive Gem, Mineral, and Fossil show. Once a year, dinosaur skeletons come to town to be sold and shared with the public. Several impressive skeletons have been bought at this show. Tucson is the place for fossils, not only dinosaurs but reptiles, mammals, etc. Some dinosaurs are positioned for selfies and there are also animatronic dinosaurs to interact with.
Dinosaurs are often incorporated into local artwork. Metalwork, very popular here, often use dinosaurs as subjects for the rusted metal sculptures. I think every house should have a dino of its own!
I've always had an interest in dinosaurs. When I previously lived in New Jersey, dinosaurs were the subject of one of my Conversations with Dudley Dewlap scripts. On a visit to my hometown of Peoria, Il, I ran across another good-looking T-rex at the Peoria Riverfront Museum. This museum is the location of Clarissa Catfish Visits the Peoria Riverfront Museum. I tried to take a selfie, but my photography skills need some improvement. I think the size of my photo-mate made taking my selfie rather difficult.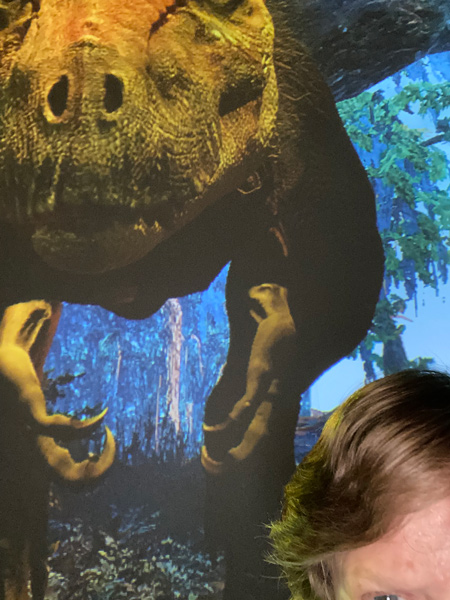 So, if you ever visit Tucson, don't be surprised if you run across dinosaurs. And if you have a chance, take one home with you!