Stella, a longtime companion.
By Author Elaine A. Powers
I've always been a reptile person. I operated a reptile rescue in New Jersey for several years. I'm a retired biologist and, while writing science-based children's books was inspired by a tiny curly-tail lizard, I do love the big lizards. My Don't Series of rhyming "desert books" are the most popular, followed by the Curtis Curly-tail Adventure Series, but I've written a book about the endangered rock iguanas of Cayman Brac called Silent Rocks and The "Dragon" of Nani Cave is actually an iguana. Maybe someday I'll write a story that includes Stella, a green iguana, who came to live with me in New Jersey many years ago. Today, I'm remembering her.
A vet in PA had contacted me about taking in an iguana once he had her stabilized. I ran a rescue with the philosophy that I would always make room for an iguana in real need of a place to live. This included healthy iguanas who would need new homes, and being a long-term home for iguanas who needed a forever home.
Stella was found in a neighborhood known for drug business. Her tail had been chewed by dogs, probably a drug dealer's guard dogs. She was taken to a local vet, who wasn't convinced she would survive her injuries. He amputated at least three feet of her tail and put her on antibiotics. Once she was ready to be released, she came to live with me. She must have been a magnificent specimen in her prime, at least six feet long and a vibrant lime green.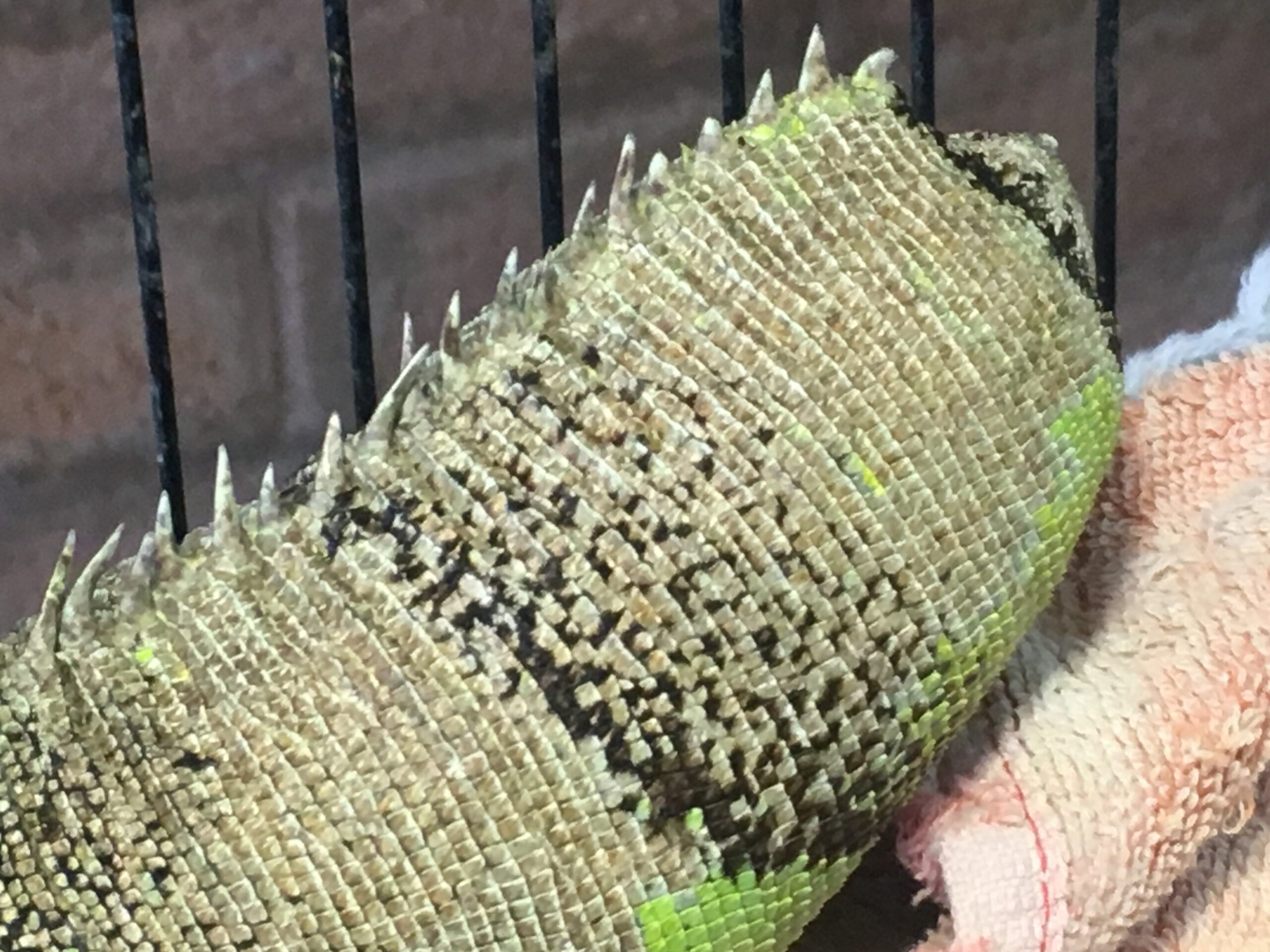 She was left with a stump the vet had sewn shut. He didn't believe she would regenerate her tail as iguanas are capable of doing, but she did, squeezing out a thin tail between the sutures. Unfortunately, this made the tail very flimsy and eventually it snapped off. She didn't miss it.
Her health improved under my care. She even produced eggs the following year, which I found annoying. She wasn't healthy enough yet to handle the stress of producing and laying eggs, but it did show that her body was healing and trying to do what iguanas do. The eggs were infertile, of course.
I provided forever homes to special iguanas and decided that Stella would become a permanent member of my household. She was a regular at my educational talks, always popular with the audience. When I moved to AZ, she of course came with me. She continued her outreach activities.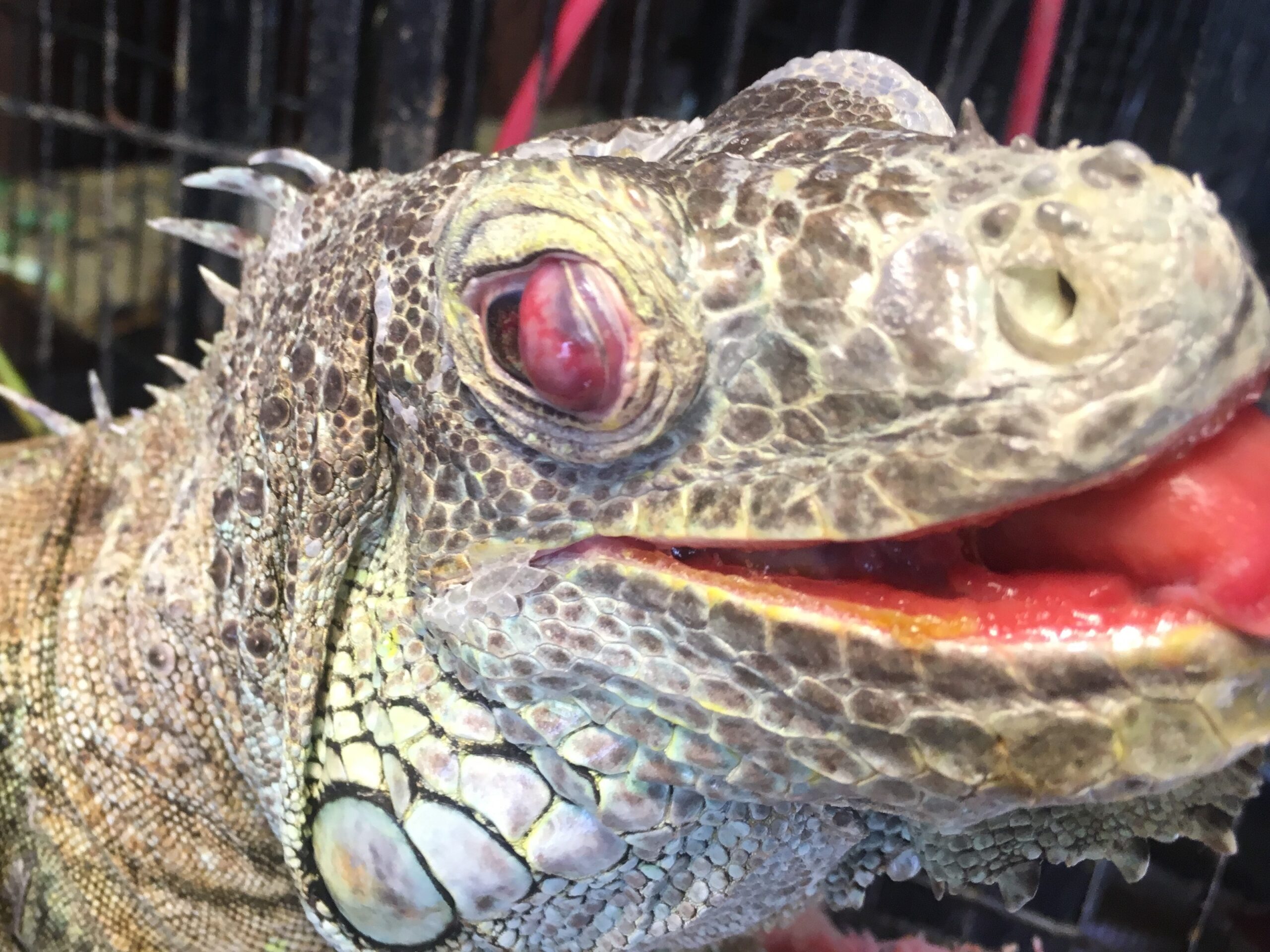 Sadly, a few years ago, the nictitating membrane on her eye become swollen with blood. This is a transparent eyelid that protects iguana eyes. I was afraid it would rupture and she'd lose her eye or a lot of blood. The vet diagnosed her with high blood pressure and she was put on medication. Sadly, the swelling continued so she couldn't be used for outreach anymore, but she lived a happy life, next to her BFF, Ezra. Since she had high blood pressure, the vet decided to try a new instrument on her, a tiny sphygmomanometer. Yes, a tiny blood pressure cuff like those used on people. It worked! It showed she did have high blood pressure.
Stella was a do-her-own-thing type of gal, but every now and then she'd want to cuddle and I treasured those moments. A few times, I was certain her adventuresome life was coming to an end, only to have her rally and continue on for a few more years. She was estimated to be thirty years old when she recently passed peacefully in her sleep.
Stella's body is being donated to an educational program that prepares skeletons from reptiles. She will continue to teach and her story shared. Stella would be pleased.
Rest in peace, dear friend. You are missed.
From the Curtis Curly-tail Series mentioned above: