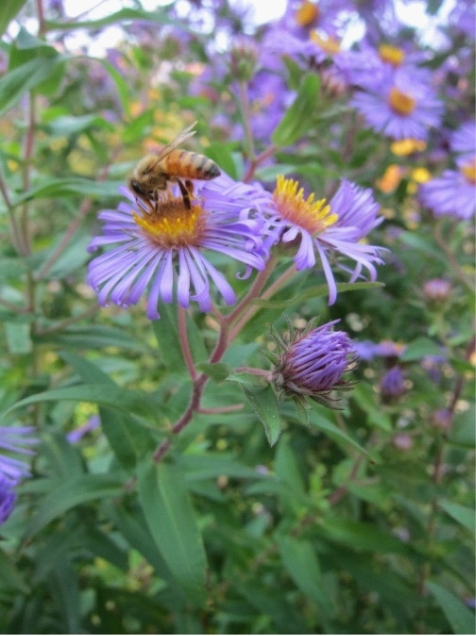 The typical image of a garden in fall abounds in reds (helenium), oranges (asclepias), and golds (Black-Eyed Susan). But there are plants for fall that lean toward the cooler side of the spectrum. Among the most common are asters.
Asters of one kind or another are native to every part of North America, as well as many other parts of the world. However, recent genetic studies have shown that the North American "asters" don't belong in the genus – which is composed of plants from Asia – and they have been re-classified as either Symphyotrichum or Eurybia. Despite this change of formal name, they will no doubt remain asters in common parlance.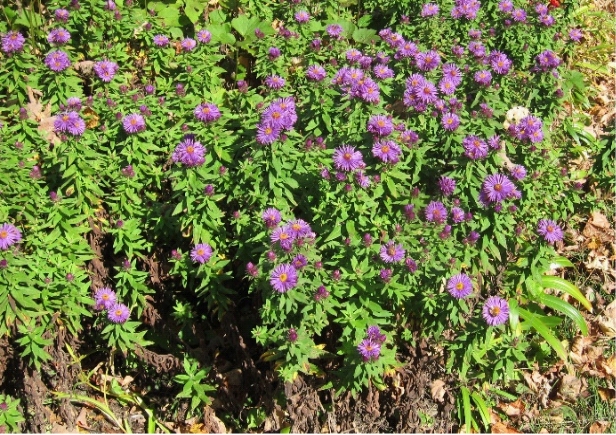 The genus Symphyotrichum includes New England asters (the species name is novae-angliae) and New York asters (novi-belgii.) New York asters are also known – especially in Great Britain – as Michaelmas daisies. "Michaelmas" refers to the feast of St. Michael which falls in late September. Both of these asters are wild in my part of the country but are also available as nursery plants.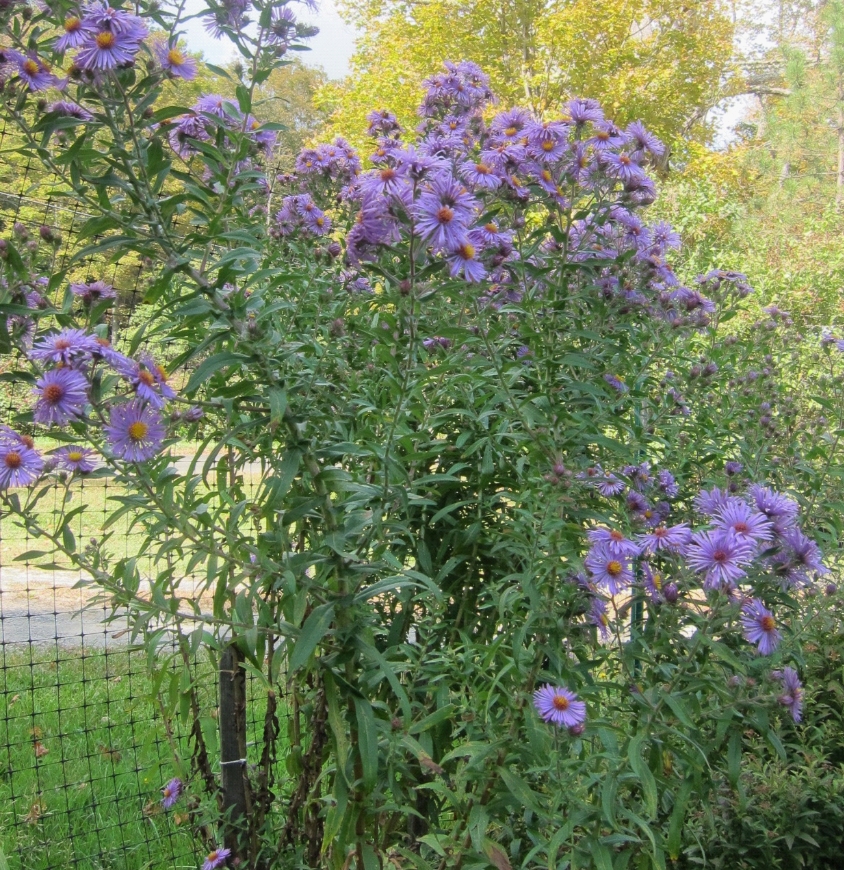 I have a large specimen of a New England aster that draws attention to itself because of its size (over 4 feet) and bright purple color. And, like others in this family, it provides a hearty supply of pollen that draws the bees especially at this time of the year when fewer flowers are available. As I weeded around the plant last week it was abuzz with hard-working bees.
In addition to the straight species, I also grow the popular cultivar, Purple Dome (see picture at the top of the post). Because the lower stems do tend to get diseased before the season is over, I took the advice of a garden lecturer I once heard and grow blue gentians in front of them to distract from the blackened stems. Purple Dome is much shorter than the species and expands easily into sizeable clumps.  They get divided every other year.
In another part of the garden I have a patch of blue asters. Like Purple Dome, these low-growing cheerful flowers have formed a nice clump and I can divide them to get additional plants every few years. Unfortunately, I have lost the information about them, so I don't know their name. I think they may be a cultivar of Symphyotrichum novae-belgii, or New York aster.
I live on a back road in rural New England where a multitude of wildflowers bloom in Mother Nature's garden. Sometimes she is generous and shares some of her treasures. Two kinds of wild aster have popped up in my garden. By moving them into clumps I can make them an attractive part of a cultivated garden. There is a light blue one and a white one. I think they are Symphyotrichum cordifolium and Eurybia divaracata.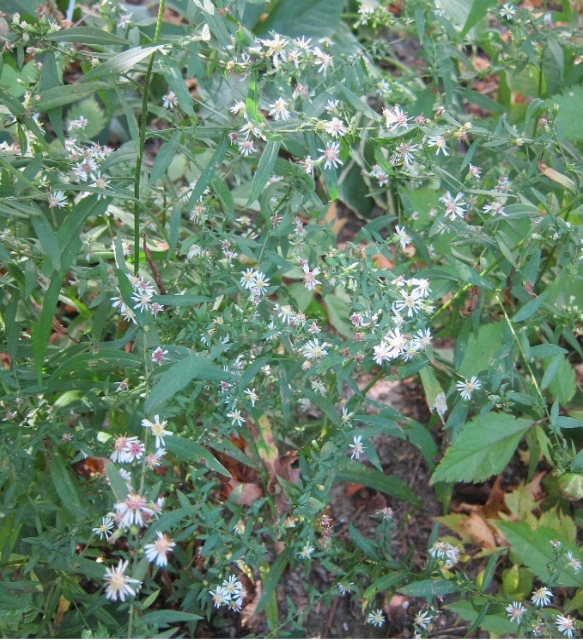 I have found that most asters are easy to grow, and there are so many different kinds that most gardeners will be able to find at least one that suits their site. I recommend them.
Jo Busha is the author of Time and the Garden, a collection of essays written over a ten-year period about gardening, life in Vermont, and observations of the natural world. It is arranged by season, but not all the essays have a specific seasonal connection. It will appeal to gardeners, readers seeking a strong sense of place, and people interested in rural living, even if they aren't able to live it. This place, where Busha has lived for 45 years, has played a huge role in her life. While not a how-to book, gardeners may find the essays instructive. Book lovers are likely to feel this a cozy read, warmth for a snowy day.