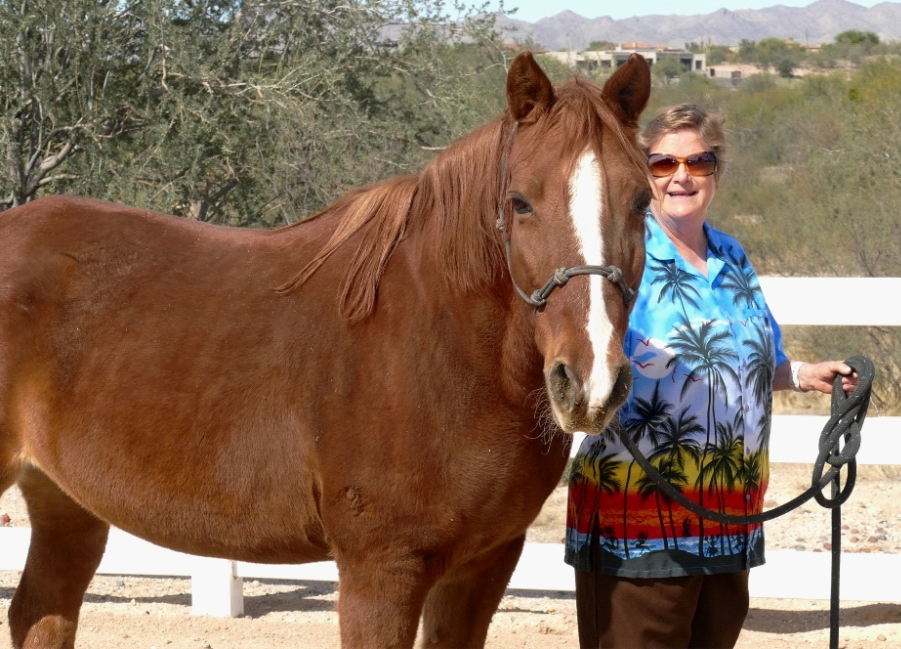 Earlier this year, I wouldn't have written about the national day of the horse. But this past summer, I did something inconceivable: I had never wanted a horse, yet I became a horse owner.
I just wanted to be comfortable riding around the Sonoran Desert. I was having trouble with stirrups, so some equestrian friends suggested I take bareback lessons. The daughter of an author friend became my trainer. I loved riding bareback. The connection between the horse and me was wonderful. We could feel each other as we moved.
My lessons involved two horses, easy-going Lady and stubborn Button. I always liked riding Button the best. I fit nicely on her (she's only 14.2 hands) and I enjoyed the challenge. As the saying goes, "Calm seas do not a skilled sailor make." She was stubborn, and I was determined.  I guess that comes from handling large, muscular lizards.
A couple of years into our lessons, we realized Button had chosen me as her human. I was honored. After that realization, I knew that if something happened and Button needed a new home, I'd be willing to take her. The next morning, my trainer asked me if I would take Button. She was getting married and couldn't keep Button at her new home. Of course, I said yes . . .without even thinking. I am happy with my decision.
Future posts will feature my developing relationship with my special horse. As you can see, she really is as cute as a Button.
If you'd enjoy learning about the Sonoran Desert, and laughing as you do so, this fun story is for you: