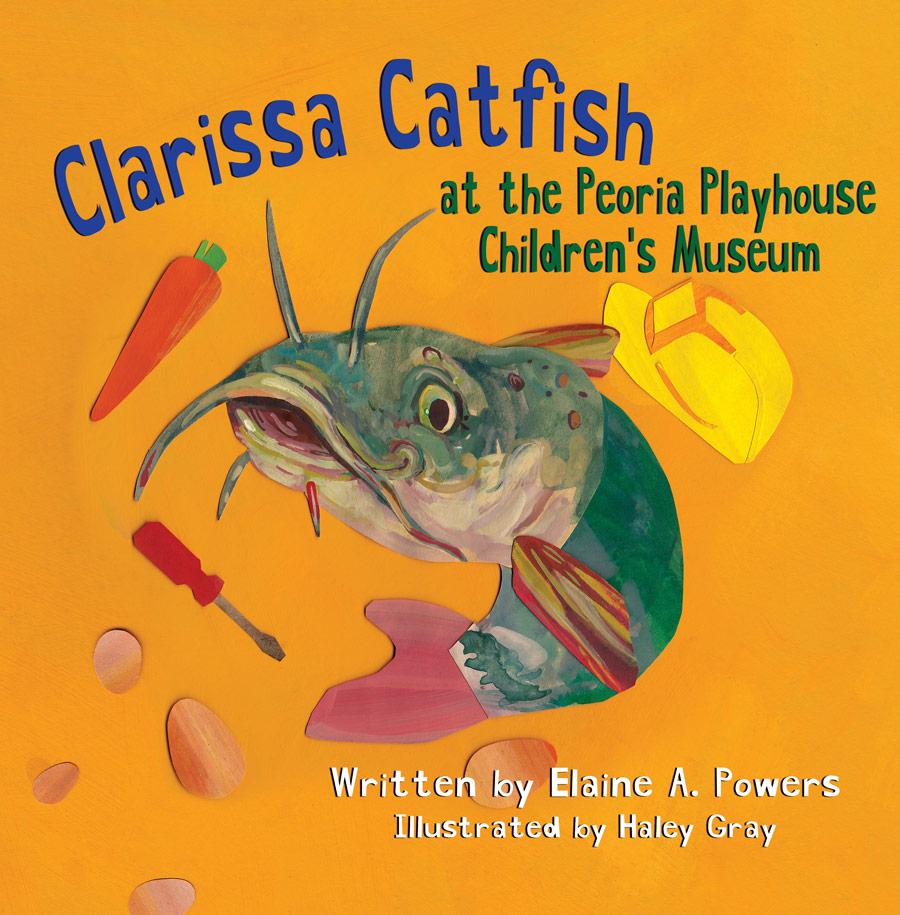 If you live in Arizona, you've probably enjoyed our summer monsoon storms almost as much as I have. It's looking to be the wettest on record! One benefit of the plentiful rain has been an explosion of the butterfly population here in Tucson. They remind me of one of my favorite art displays, The Butterfly Wall. I like it so much I couldn't help but include it in my book Clarissa Catfish at the Peoria PlayHouse Children's Museum.
This intriguing wall contains interactive projection artwork. First it creates your shadow, then projects butterflies that flutter around before landing, one at a time, on your shadow. As they perch, their wings beat slowly and then stop for a moment, as if they're at rest. After a few moments, the butterfly takes off and is replaced by another. I may be a scientist, but I admit I don't fully understand the sensor detection the artist used in their piece. Even so, it's a lot of fun. By far, the Butterfly Wall is my favorite display in the museum. If you're ever in Illinois, the Peoria PlayHouse Children's Museum is absolutely worth a visit.
Real-Life Butterfly Wall!
Recently, I experienced a live version of the Butterfly Wall. As I walked near a stable one day, a cloud of butterflies rose from a recent pile of horse manure. It may sound gross, but it's called puddling. Butterflies, usually the males, pull water, salt, minerals, and even amino acids from the horse droppings. Studies suggest that these nutrients are passed on to the female during mating.
I didn't mean to disturb the puddling, but after they rose I was immersed in a kaleidoscope of colorful insects. Instantly I was reminded, once again, of the children's museum and that amazing artwork. As I passed the stable and continued on my path, more butterflies surrounded me: on bushes, over the blooming Datura, and through the mesquite trees; my approach sent them into flight. The species included many colors, just like on the display wall.
Until this monsoon season, I've never seen so many types of butterflies in the Sonoran Desert. I knew about Monarchs and Swallowtails, but not the many others such as Monarchs, Sulphurs, Queens, Fritillaries, Swallowtails, Empress Leilia Hackberry, Gray hairstreaks, Funereal Duskwings, and Painted Ladies. I expected the mountains and landscape to look lush and green after all the rain. What I didn't realize was that more than 250 butterfly species are here in our little corner of the desert.
Butterflies… in the Desert? 
How could so many species thrive in such a seemingly harsh environment? Warmer climates enhance species numbers. And even though the desert looks dry, the varied landscapes create a variety of microclimates and plant distributions well suited for butterfly habitats. Most of the species are local and stay close to their larval food plants. Some are transient, wandering through on their migrations north and south. Others follow strong monsoon rainfalls. In particularly good monsoon seasons, these wanderers may even breed. Unfortunately, many of them don't find the food plants their offspring will need.
In addition to their beauty, butterflies are important pollinators in our deserts. Therefore, it makes sense that their populations increase as the blooming desert plants increase. Sadly, this butterfly bounty is an exception, not the rule. The loss of desert habitat has negatively impacted their numbers. Something to keep in mind even as we enjoy them. 
Nonetheless, it was delightful to experience a real-life version of The Butterfly Wall. I imagine it's how Clarissa Catfish must have felt when she saw the wall in the museum. Sometimes, life does imitate art!