When I write, I'm usually writing rhyming stanzas or maybe an adventure tale. Of course, I could be writing blogs like this one. Consequently, I very rarely write short stories, although I really enjoy reading short stories. I like reading a complete story in those few minutes in bed before I fall asleep.
I recently had an opportunity to submit a short story for an anthology prepared by the Arizona chapters of the Sisters in Crime organization. The members in Tucson are helping with the preparations for the Left Coast Crime convention. Editor Eva Eldridge assembled a superb team to select the finalists. I didn't really expect to be selected, although I thought I had an intriguing unique story for the theme of Trouble in Tucson. 
With much-needed guidance, I wrote an acceptable story, one worthy of inclusion. If you know my science background, you can guess that my story has a very different take on trouble. And it's based on a true story! A truly terrifying true story.
My story joins those of SinC-member authors from the Tucson Sisters in Crime, the Grand Canyon chapter, and the Desert Sleuths. Included are Susan Cummins Miller, Kris Neri, Minerva Raz, Mary Ball, Cynthia Sabelhaus, Conda Douglas, Lynn Nicholas, Jeffrey J. Mariotte, Janet Alcorn, Patrick Whitehurst, Elena Smith, Emma Perez, Kathy McIntosh, and Ambre Leffler.
The anthology was published by my imprint, Lyric Power Publishing, LLC. I am delighted to add this anthology to my catalog of books. This is not your usual collection of mysteries. Eva Eldridge did a terrific job of selecting an interesting variety of tales. Brad Peterson did a fabulous job putting it into publishing form.
Trouble in Tucson is available to purchase from TSinC, the authors, or Amazon.com. Read more about it below: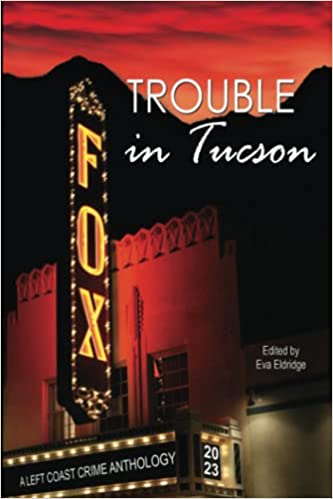 Have a little murder with a side of castor beans. Perhaps some ghostly mischief is more to your liking. Trouble in Tucson is a collection of stories to make you smile or ponder the more serious side of life.