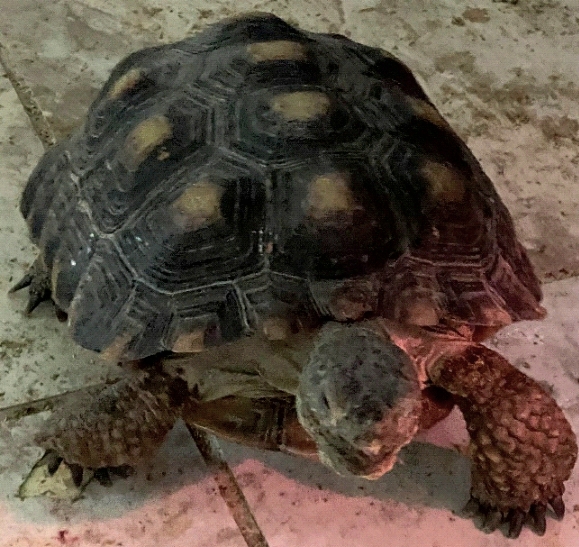 You might not think tortoises are very smart, but I have one who proved she is. I have a young native tortoise as a foster. Her name is Flipper. Last summer she was big enough to roam outside and it was relatively cool for Tucson. When it came time for her to brumate as winter approached, she was not making good den choices. (She thought a bucket on its side would be sufficient protection from the winter cold.) I brought her inside until spring. Several weeks ago, once the nighttime temperatures came up, I put Flipper back out into the yard.
It has not been cool this year. May 6th it was 105 degrees. (It was 111 at my house today.) Though I love hot weather, in the early afternoon, even I thought it was a bit much.
I supplement the tortoises' grazing with the vegetables and fruits I feed the indoor tortoises. Flipper would come over every now and then but seemed to be doing well outside.  Recently, as I put out the plate of greens, Flipper came running over. She must be really hungry! Nope, she ran right over the plate, up to the door sill, and tried to climb inside. It was too high for her short legs, so I helped her up and over. I soaked her in the bathtub in case she had been dehydrated in the hot, dry weather (nine percent humidity).
After her bath, I gave her a plate of greens, which she "wolfed" down. Apparently, she needs to work on her transition to wild tortoise a bit more. I planned to have her go back outside when it cooled down to the mid-90s, but she beat me to it. A few days later, she somehow knew the temps were back in the 90s, and she rushed out the door.
To learn more about tortoises, take a look at Don't Call Me Turtle! and the Tortoise workbooks/activity sheets here at Lyric Power Publishing LLC.