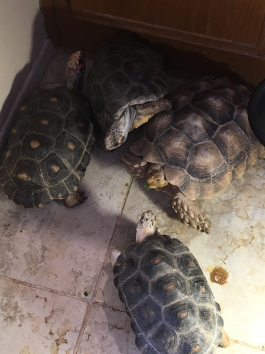 There are many mysteries in life, questions that we need to know the answers to.
Like this one: How many tortoises can fit in a corner?
And the follow-up question: how many tortoises can you stack on top of each other before they topple?
I don't know the answer to these inquiries, but these girls are well on their way to solving these mysteries.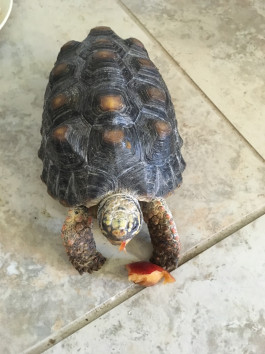 Meanwhile the smaller, smarter one, is off enjoying a bit of nectarine.
Do you know the differences between turtles and tortoises? And did you know the typical answer: "Turtles live in the water, and tortoises live on land," is not that simple? If you want to find the answers to the question, How are turtles and tortoises different, you will certainly enjoy, Don't Call Me Turtle! (That's one mystery that's easy to solve.)
It's a fun, rhyming book and a favorite among the little ones–I get the most fan mail with their pictures about this book, along with notes from their parents telling me that they learned a lot, too, while reading Don't Call Me Turtle!