Hello, I'm Curtis Curly-tail of Warderick Wells Cay, in the Exumas of the Bahamas.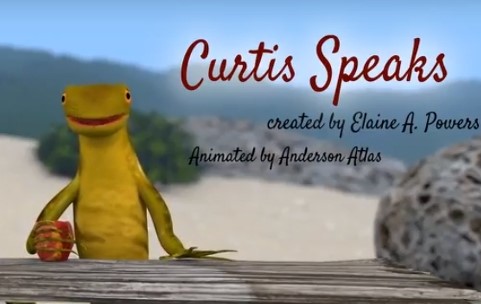 I'm simply delighted that Lyric Power Publishing asked me to write some guest posts for their website. You see, I kind of owe them for making me somewhat famous. I really get to show off my perfect curly tail over at my You Tube Channel!
Let me start by introducing myself and my species.  I am a member of the Leiocephalus carinatus species. We are found in the Bahamas, Cuba and on the Cayman Islands. I am planning a trip to visit the Lime Lizard Lads on the Cayman Islands, who are the exact same species as me. Isn't that incredible? What is curious is that the Bahamas has four other species of Curly-tail lizards, but my species is the only one to travel to the Cayman Islands.
We all like to live along the coast in dry areas. We're called xerophilic or arid-loving. We live on the ground among rocks, shrubs and even pines, but my favorite spot is along the beach. I've noticed humans like the beach, too. Maybe I'll see you there! And, If you'd like to join me on my wild adventures, the Curtis curly-tail series is available here.
Take care and talk soon!