We're starting a new category for posts at Tails, Tales,Adventures, Oh, My! today. We're calling it Living with Reptiles.
I Live with a Menagerie of Reptiles, by Elaine A. Powers, Author
People think living with mammals or even birds is perfectly normal, but tell people you live with reptiles and they look at you strangely. I don't understand this. Dogs bark, cats meow, and birds squawk. Fish might seem quiet but then you have the noise of the bubbler. Reptiles make the perfect, quiet pets and most sleep through the night right along with you. What could be better than that?
I do have stories to tell.
Tortoises Noises are Targeted—At Me!
I know I just said reptiles make quiet pets, but there are always exceptions to the rule.
I have a creep of red-foot tortoises roaming around my home. (Creep is the collective noun for tortoises.) You can hear the slik, slik, slik sound of their feet moving on the tile, but red-foots are known for being noisy breathers. And I don't think it's just breathing—I think they are talking to each other. When I get home after along trip, when I'm travel-tired and trying to fall asleep, they gather beside my bed and whisper to one another for . . . hours. I've decided that means they're happy I'm home. I am happy to be home—I miss them, too!
On a typical day, they allow me to sleep peacefully through the night—until dawn, that is, when they decide to scratch their apparently itchy shells on the metal frame of my bed. Back and forth, back and forth. This is a very effective way to encourage me to get up and prepare their breakfast salads.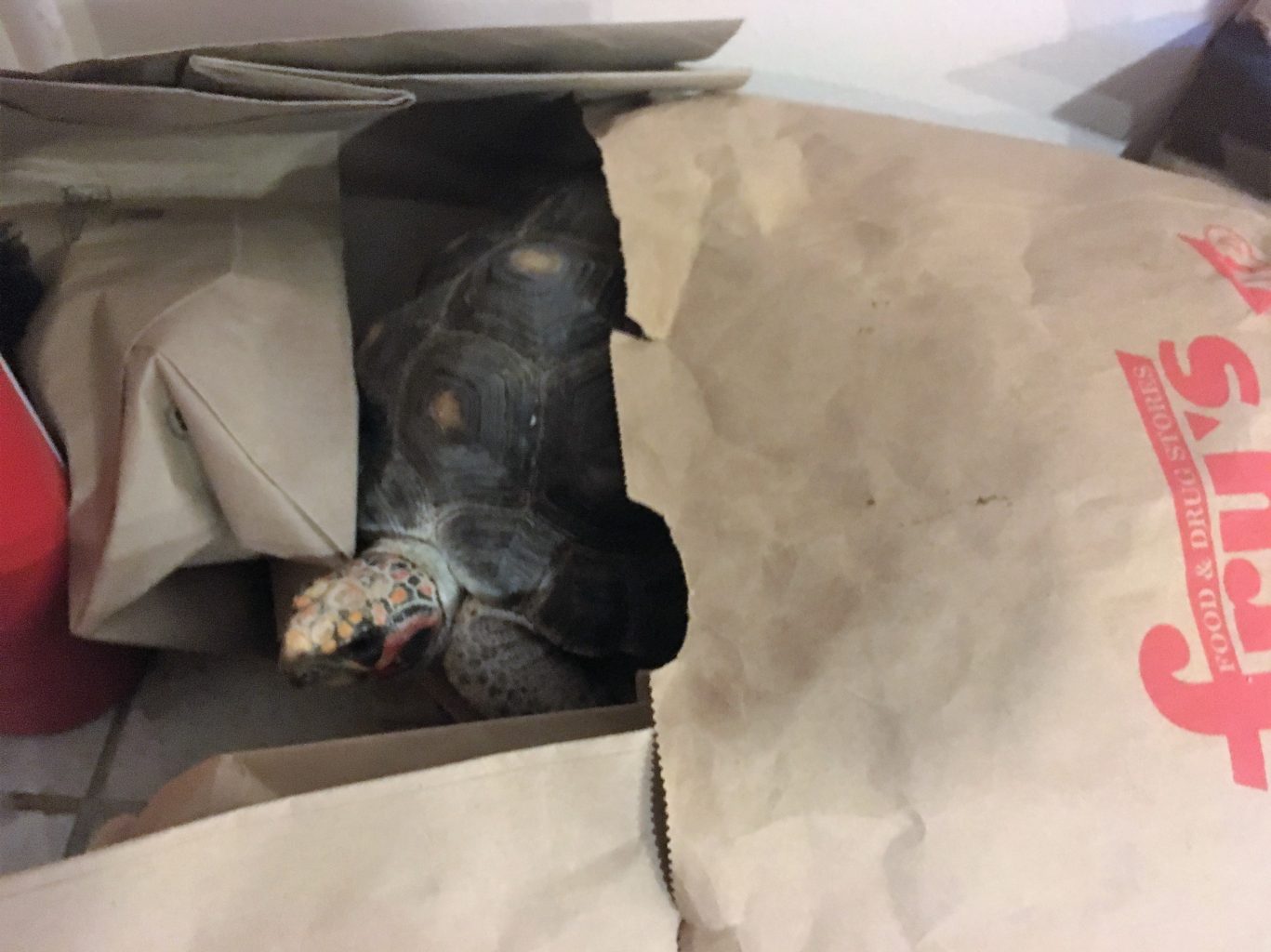 The other day I was on the phone for an important business call. I hear this loud, scrunching sound behind me. Myrtle Tortoise had knocked over my paper grocery bag filled with other paper bags. She crawled inside, crunching the bags, crushing them, sliding them about, etc. Needless to say, it was quite noisy. Because I had to focus on the call, I couldn't go and grab her until the conversation was over. As soon as I hung up the phone, Myrtle ceased her excavation of the bags.
"Just a coincidence," I thought I heard her think as she strolled away. 😊
Elaine A. Powers is the author of Don't Call Me Turtle, thanks to Myrtle, who asked her to write the book.