Because tortoises are free-roamers, they help with designing interior décor. Their specialty seems to be rearranging.
My desk chair is on wheels, a very practical design for me.  However, sometimes I'm typing on my laptop when I feel the chair moving away from the table.  Myrtle Red-foot Tortoise has put her head underneath the wheel frame and is pushing. She's strong enough to move the chair with me on it! If I'm not sitting on the chair, I see it moving across the room.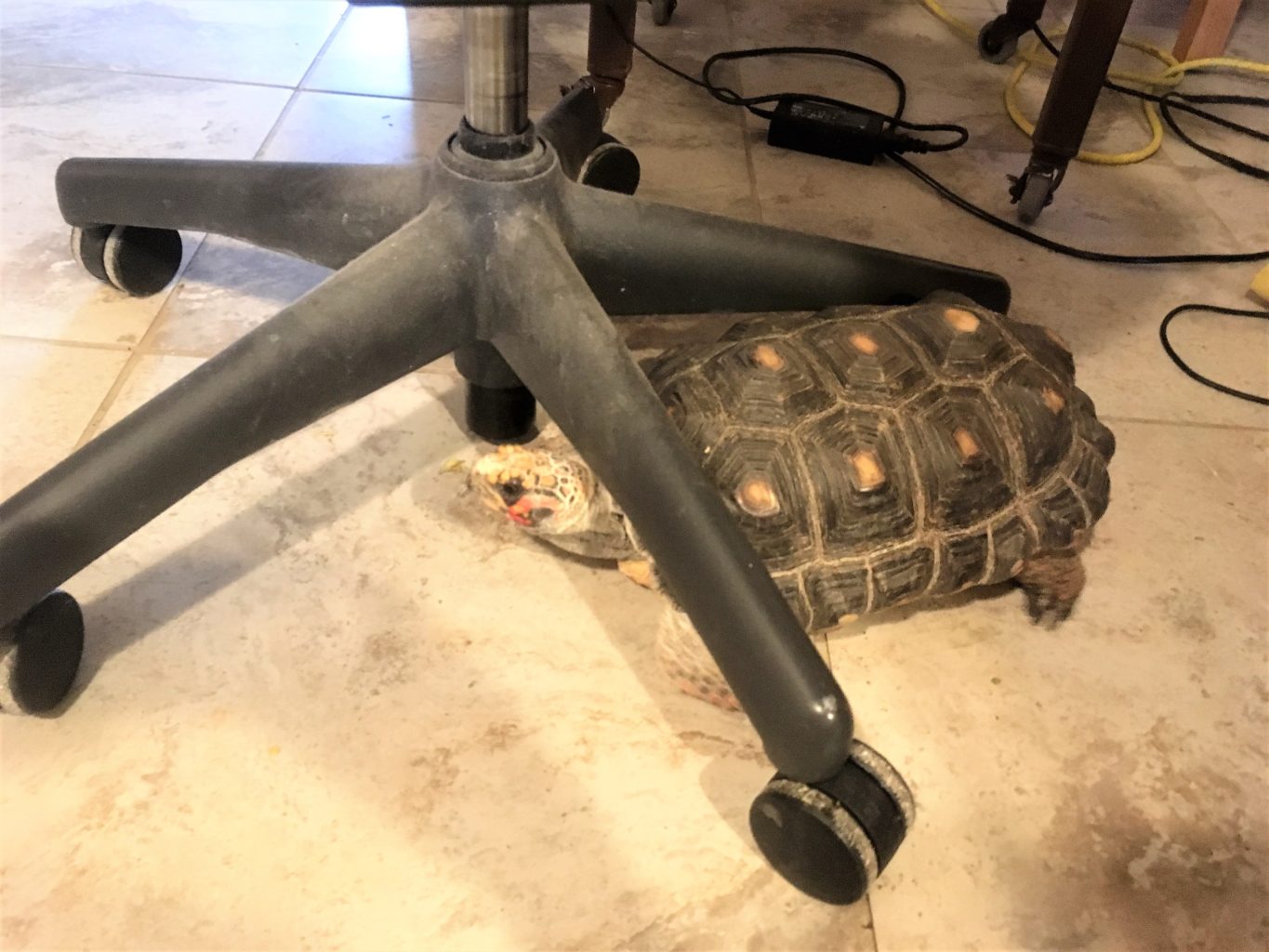 And it's not just my chair that moves. The iguana enclosure in the front room is also on wheels. I find Calliope rolled across the room. She probably enjoys the change of scenery.
The red-foots are reasonably sized tortoises. Sulcata or African spur-thighed tortoises (Geochelone sulcate) like Duke tend to fall on the large side of the scale.  He's currently 120+ lbs. The impressive spurs on Duke's forearms are used for protection, but also for digging through hard ground to create underground dens. Those spurs are also very effective in digging through dry wall, doors, and pretty much anything he wants to get through. Sulcatas can dig dens that are 30 feet long and 20 feet deep.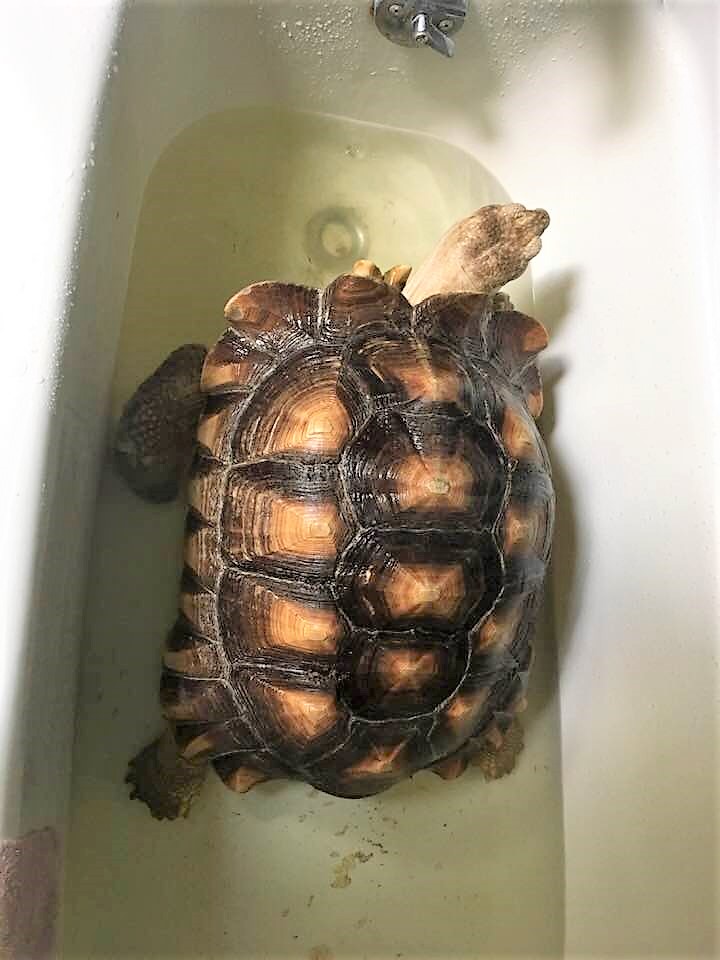 Duke lives in the reptile room along with iguanas housed in wire enclosures. I have put the enclosures on wheels so Duke can roll them around as opposed to knocking them over. People wonder why the stuff in the room is arranged as it is – because that's the way Duke wants it. He has created his own den areas and even cleared a basking spot.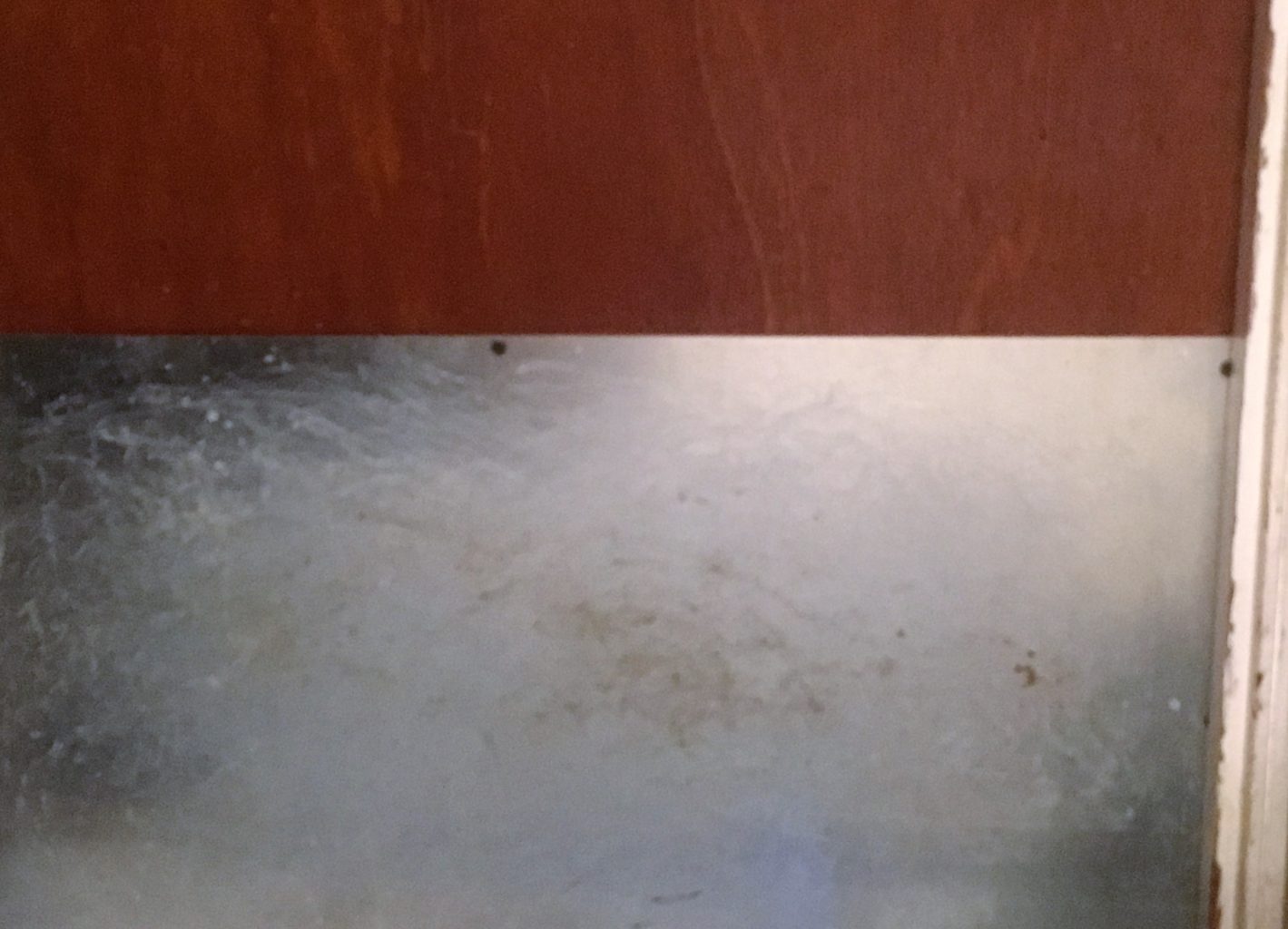 I love the adventures (and the occasional mystery or two!) and wouldn't have it any other way.
LPP NOTE: Because Myrtle's name rhymes with turtle, she was often called Myrtle the Turtle. One day, she asked Elaine to write a book about the difference between turtles and tortoises. The result is a favorite rhyming book of little ones, Don't Call Me Turtle! Did you know there are at least ten differences between them?