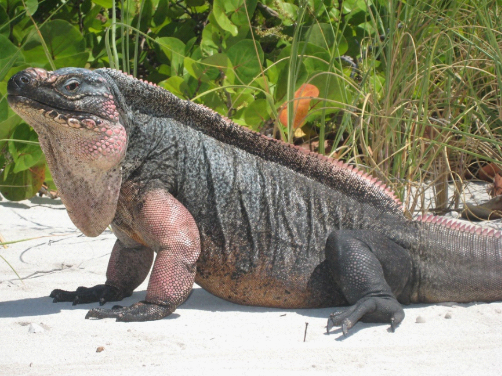 As social animals, all humans get lonely every now and then. But when I think of true loneliness, I think of an iguana on White Bay Cay in the Bahamas. The Bahamas have a variety of rock iguanas (Cyclura), but they are not found on all the islands.  Some are restricted to one island or cay.
The Exuma Island iguanas, Cyclura cychlura figginsi, are found in the Exuma island chain. They are critically endangered in their home range, due to irresponsible people who insist on having one for their own collection, depleting the low numbers in the wild.
It's suspected that the lonely iguana was probably lizardnapped and taken aboard a boat. Sometime during the voyage, she escaped from confinement and leapt overboard. Being an excellent swimmer, she swam to the nearest island. Fortunately, the plants were sufficient for her needs.
But she's the only iguana on this island, with no way of rejoining her kind or any of them joining her. Whenever I think I'm lonely, I think of this beauty on White Bay Cay–left alone because of irresponsible humans.
I write about the dangers iguanas endure in two of my books: a fun fictional adventure for ages ten+, called Curtis Curly-tail is Lizardnapped; and a nonfiction book for all ages about the serious decline of the Sister Island Rock Iguanas,  Silent Rocks.  
I also love to help animals and people who are struggling. Loneliness is a part of being on Earth at this time. Can you make a phone call to check on someone, drop off a dinner perhaps–think of anything you can do to cheer up a lonely neighbor? We can each do small things to make a difference for others, humans and/or animals, in our own ways.
Here are links to the books I mentioned.