It wasn't easy becoming "Auntie" to Ms. Powers' reptiles. After all, I was a mammal-gal and the closest I'd been to a reptile was loving the little green lizards our Mom bought my brothers and me at the fair in the 60s.
But Elaine needed someone to care for her 19 reptiles when she travels and mentioned it to me. I needed to work, and I've always been curious about and loved animals, so we set an appointment to meet them. I was nervous.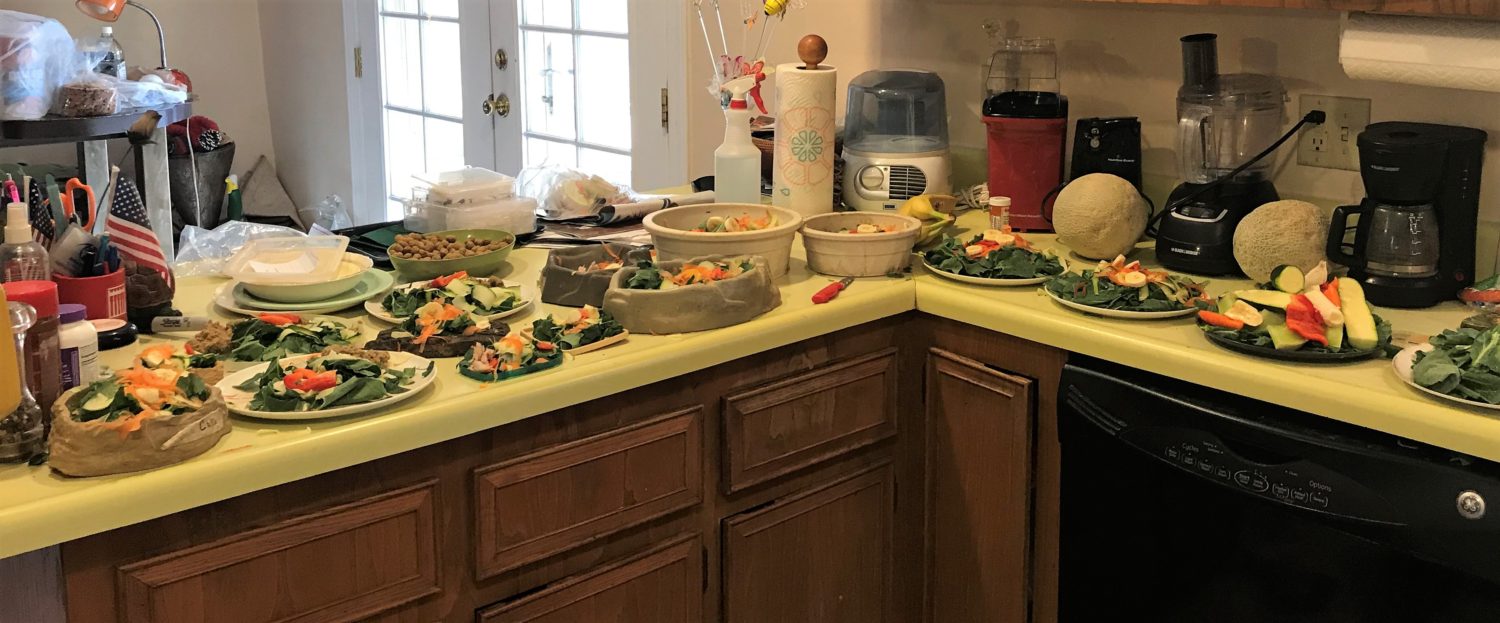 We came around a corner into the room where two iguanas live: Chile and Calliope. Calliope is a four-year-old green iguana and at the sight of me, she hit every side of the cage, rocking it, apparently attempting a quantum leap to anywhere but the same room as me.
"Well, okay then," I said. "Thanks for trying."
"No, no. Hold on," Elaine said. "She does that sometimes when she is startled. Give her a minute."
We waited and she did calm down—but to this day, when I open her cage door to place her breakfast salad, she gives me the Calliope-glare and raises her tail just a bit to let me know that she is watching every move. She has never hit me with her tail, but my first couple of times caretaking, she did whip it in my direction. Still, I am the human who feeds her delicious salads when Elaine is away and she knows this. (Delicious salads are my love-bribe.)
I had so many questions when I became caregiver to Elaine's beloved tortoises and iguanas:
Do they bite?
The iguanas might and it's very painful, SO DON'T LET THAT HAPPEN.
You take the iguanas out of their cages to climb and wander. Will they try to escape when I'm here?
They'll be a bit shy at first, but yup.
Oh, dear.
Just be observant. Watch the legs for 'springing' action. Don't open the doors then.
What if I think one of them is ill?
Call me right away. I'll leave the vet contact info on the table. If, Fates forbid, one of them should die, you will have to remove the body from the cage, put it in a plastic bag and into the freezer in the garage.
But, that won't happen, right? And how in the world would I get them to the vet?
Probably not. And in a carrier.
Oh, dear.
They'll be fine. You'll be fine. Don't worry.
And we have been fine. Blue has escaped from his cage twice, and let me just say that when I stepped into the reptile room the first time and saw Blue on TOP of Rascal's cage, I panicked. And I couldn't get a hold of Elaine. Then I remembered I was the caregiver and I had to figure this out.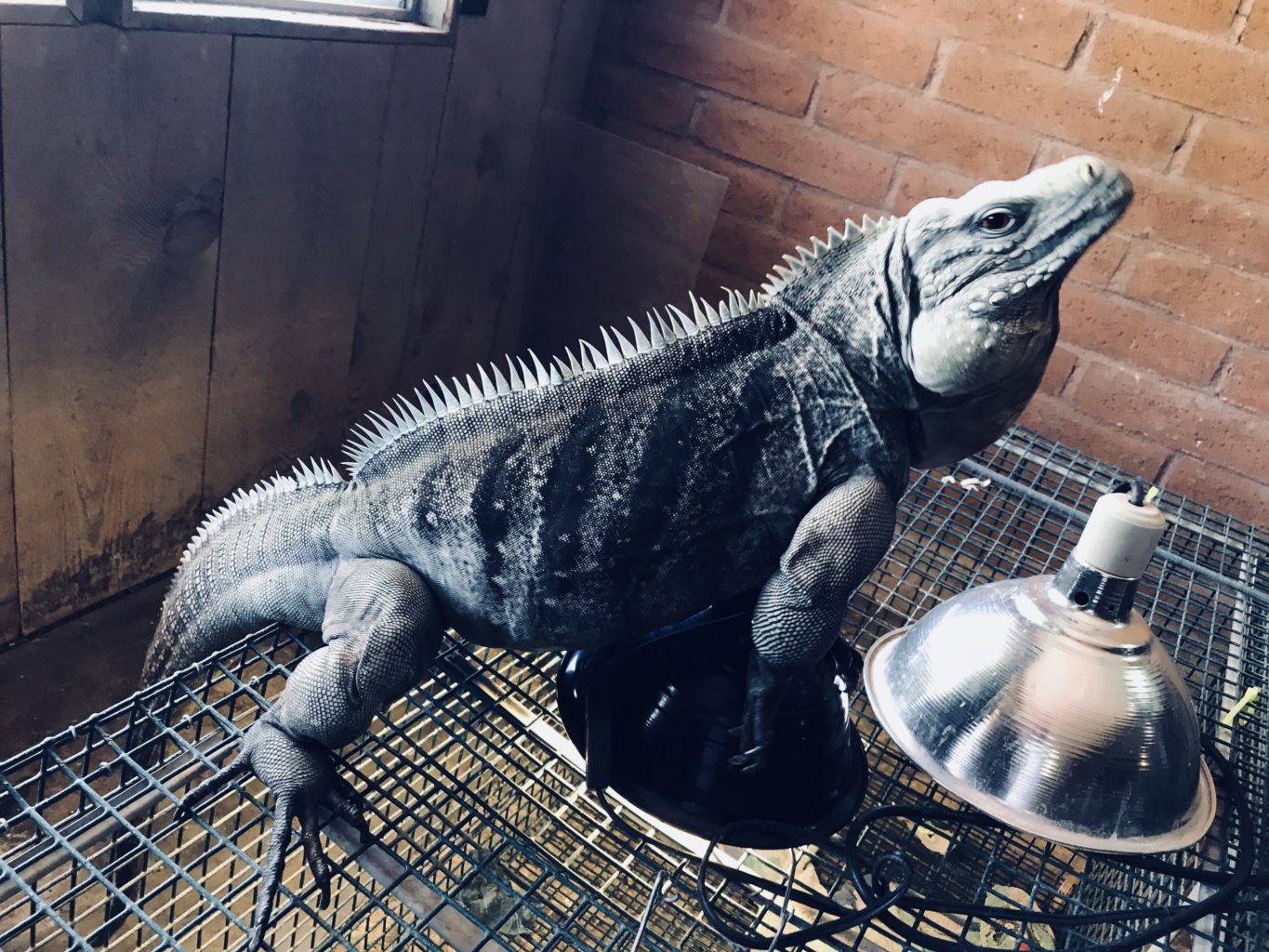 So I sat on Rascal's cage near Blue and put my hand on his back. I petted him. I had touched him inside his cage before, but never like this. He climbed on my lap and licked me! (He has the sweetest little pink tongue.) And I must've jumped six inches off the cage! I apologized to Blue and then noticed his cage. He'd apparently chewed a hole in the side and it was not a big hole. I checked his skin and nothing was torn. I was wondering what to do, when I saw these little bungee cords.
I rolled Blue's cage next to Krinkle's cage and bungeed them together against the hole-side. Elaine called and actually laughed at me for being scared, and then proceeded to tell me where a sheet of plexiglass was to put against that same side of the cage. Then there was the matter of getting Blue back into his cage. Long claws grabbing cage bars beat my muscles, all day every day, so it took a while, but I finally got him back inside.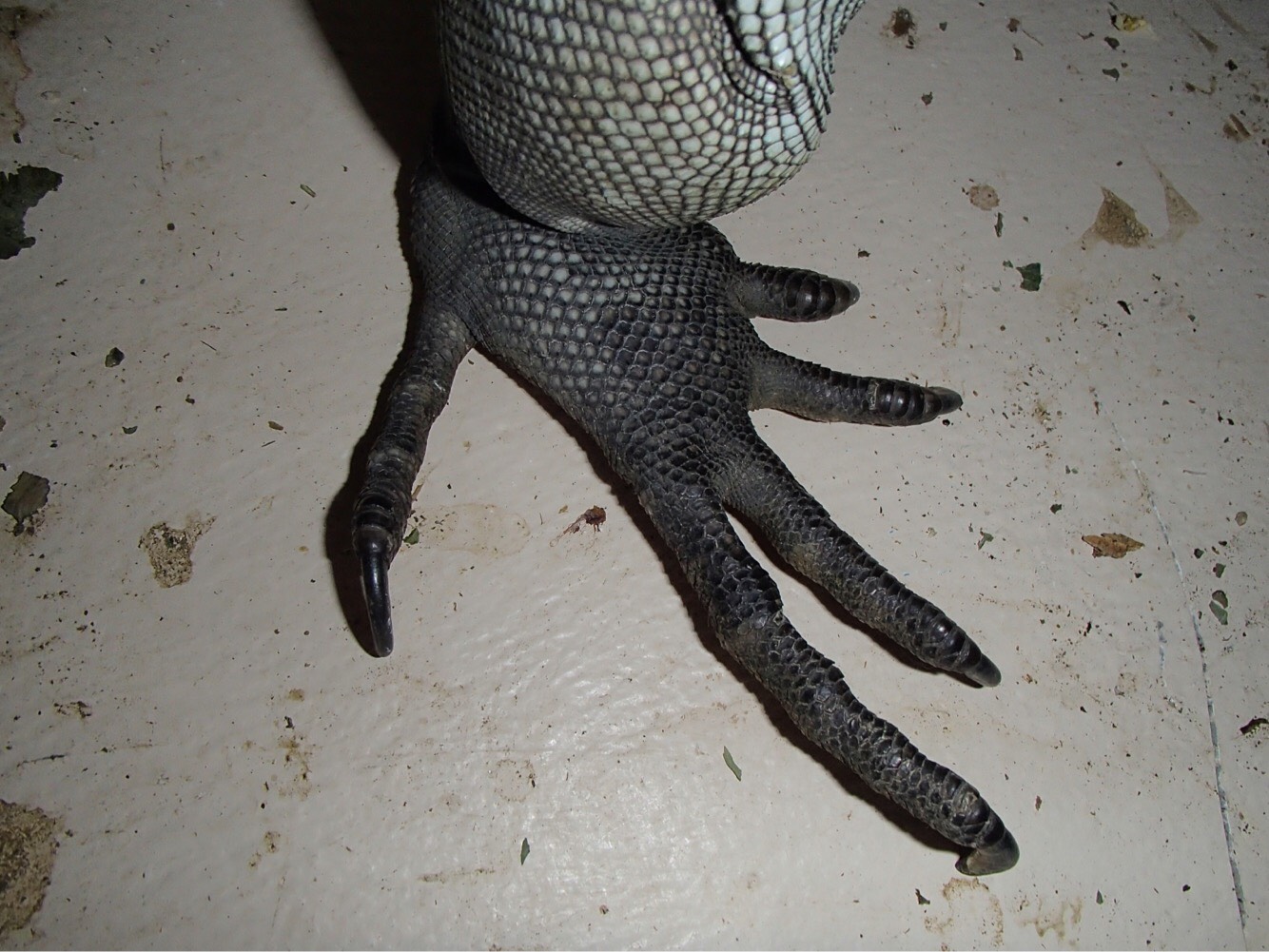 Everyone knows me now. I've given Myrtle, a Red-foot tortoise a bath, and helped Ezra, the older green iguana, go to the bathroom. I give Stella her medicine in an orange slice every day. I have to hunt for the tortoises every morning to give them their salads and though you wouldn't think they can disappear, they can! (And, Trevor, the turtle, who can climb up the screen door.) And they hide their food plates sometimes. The tortoises stand on my feet when they want to say hello.
I am an occasional visitor, but I am loved, well at least accepted, by a whole bunch of reptiles, whom I absolutely adore in return.
We never know where life is going to take us, do we?