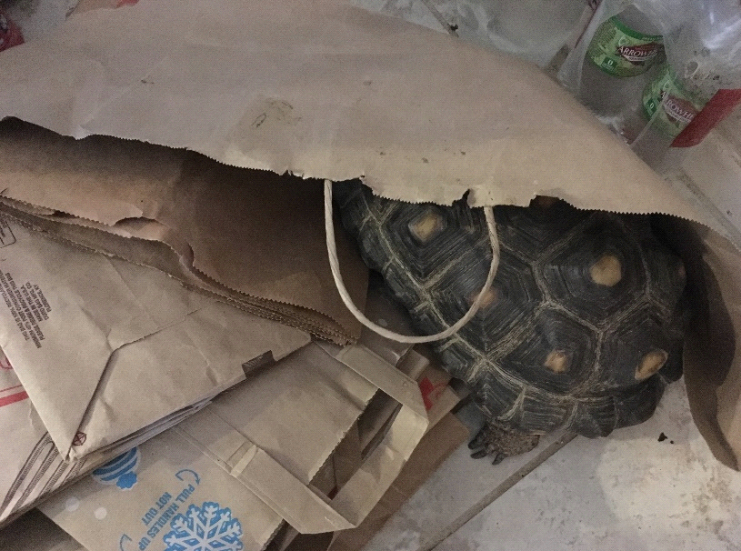 I often see photos of cats playing with paper bags and cardboard boxes. Domestic cats, and even tigers, playing with bags and boxes. These objects make great hiding places and objects for pouncing upon, perfect for solitary play. Feline aficionados claim that playing with paper stimulates cat brains.
So, do the attraction and benefits of bags and boxes prove true for tortoises, as well?  I keep a bag of paper bags beside my refrigerator.  This proves irresistible to my free-roaming tortoises.
They knock it over, crawl inside, pull the other bags out and slide them around the kitchen, having a great time for hours. However, their enjoyment of paper products is not limited to bags.  Boxes are also great fun.
Crawling into boxes can be a solo or a group activity. I have them placed in corners around my house so they don't get bored with limited locations.  This also helps in preventing wall damage when they feel like digging a den.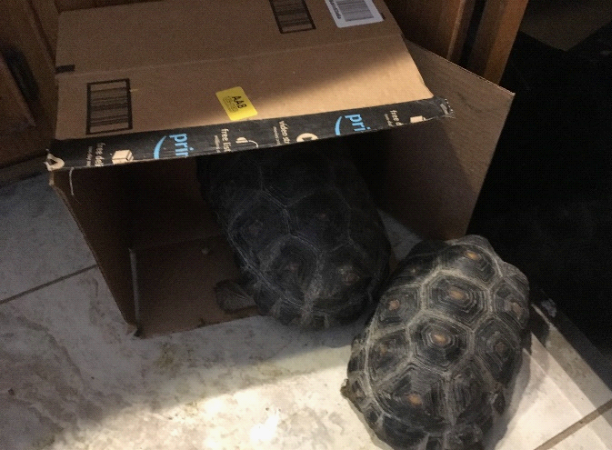 I'd never thought my tortoises played before I put cardboard boxes on the floor. Now they spend their days romping in bags and boxes just like cats!
Publisher's Note: Following are comprehensive supplemental workbooks for children , Pre-K thru 1st and 2nd-4th grade, all about tortoises. Keep summer boredom at bay with the many fun and interesting pages and projects inside our workbooks. Today is a good day to learn all about tortoises and help keep your children's reading, vocabulary and math skills fresh.