You might expect that the author of a book of gardening essays (Time and the Garden) is an avid gardener. You'd be right! This post is about my annual journey with my annuals.
I have a collection of planted containers around the perimeter of my deck. They act as a visible barrier, needed because we removed the railing when we realized (the first winter of its life) that shoveling snow off the deck is nearly impossible with a railing in the way. Over the years, I have tried out many kinds of plantings.
My husband objected when plants got so tall that they obscured the view. And I eliminated plants that might look nice for a while but tend not to last through the whole summer. Among that group are China asters and painted tongue, both colorful flowers I really liked but the spent plants had to be dug out of the containers and replaced by about mid-July.
For some years now, the conventional wisdom concerning the best way to plant a container for maximum impact is the "thriller, filler, spiller" triad. The thriller, a tall plant with a dramatic shape, the filler being just as the name implies a plant – or sometimes two or three – with a bushy or bulky shape, and the spiller, a trailing plant or vine to spill over the edge of the container and is supposed to "soften the edges" of the container. This formula is often described as "well-rounded" and "professional" and even "foolproof."
Eventually I grew tired of this formula. Containers planted this way began to seem overdone, even obese. I started to shift the containers to a more lighthearted presentation. Generally, this means smaller containers, often planted with just one or two kinds of plants.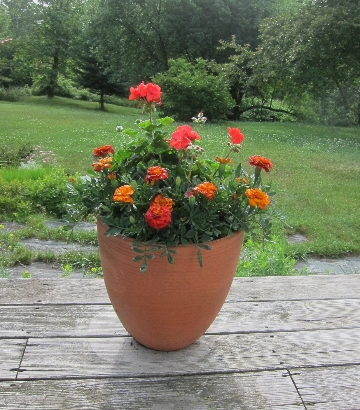 These can be grouped in different configurations to show each pot to its best advantage through the summer season. I have tried several color combinations but generally have settled on hot colors for their cheerfulness and ease of growing: geraniums, marigolds, coleus, and nasturtiums.
One year I tried out a black and white theme. It seemed rather contrived, so I haven't repeated it.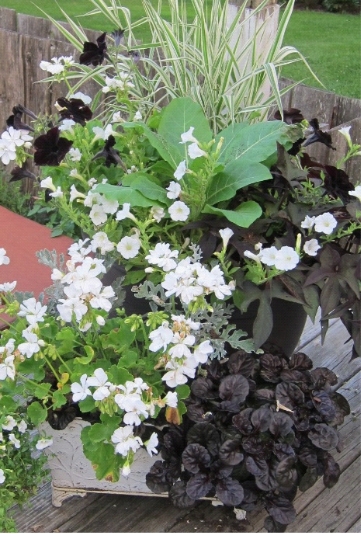 Some of this year's pots have turned the tables, providing me surprises. I suppose it was the re-cycled potting soil that produced the large cucurbit. It must be the offspring of a hybrid squash, producing a plant and some fruit not quite like either of its parents. It provides a lush container planting that I would not have thought of myself.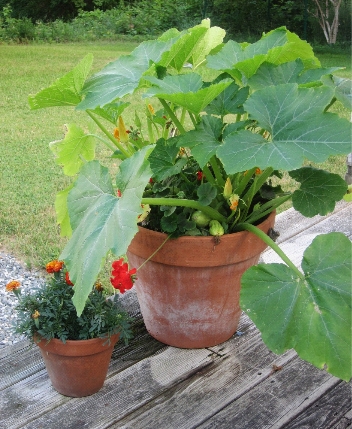 This year I am experimenting with a whole bed of annuals at the south-facing end of the potting shed. For many years this spot served as the home of the truckload of pine mulch I invested in each spring. I knew that the pretty potting shed deserved a more attractive surround, but just couldn't make up my mind about what sort of planting I wanted in this prime location. And it was handy having the mulch there.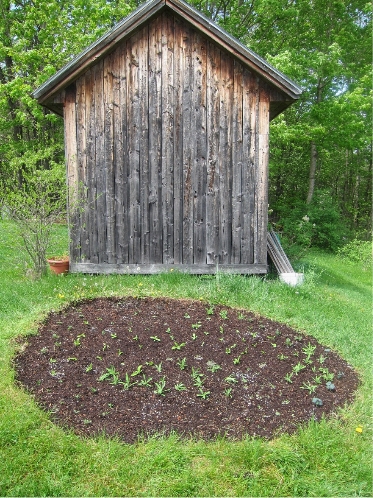 This winter I came up with the scheme of making a fully packed bed of colorful annuals. Maybe that would help settle the question. I ordered seeds and started them in the cellar under gro-lights. As spring approached, I filled two cold frames with masses of seedlings.
I dug up the area, mixing the remaining, years-old, nearly-composted mulch with the rich black soil below. Finally, it was warm enough to plant them out in the prepared bed.
To my chagrin the masses of seedlings did not actually fill the bed as I had imagined.
A few days after the plants were settled in their new home a mama woodchuck found them and decided that the viscaria was a banquet just for her. I put up a temporary fence.
Eventually mama and her babies apparently moved on (we hadn't seen her in a week) and I took down the fence.
Of course, that was a mistake – the slowly recovering viscaria were re-discovered and devoured, leaving a large bare spot in the center of the bed. The marigolds and calendula, the poppies and nicotiana have done well and are blooming. The zinnias have suffered badly from Japanese beetles and are way behind.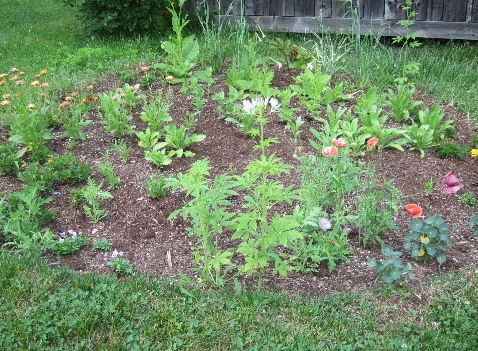 I think the only thing this experiment has proved is that a bed of annuals probably isn't the solution to my design dilemma for the end of the potting shed. Next year, the mulch may be back.
NOTE: Jo Busha is the author of Time and the Garden, a collection of essays written over a ten-year period about gardening, life in Vermont, and observations of the natural world. It is arranged by season, but not all the essays have a specific seasonal connection. It will appeal to gardeners, readers seeking a strong sense of place, and people interested in rural living, even if they aren't able to live it. This place, where Busha has lived for 45 years, has played a huge role in her life. While not a how-to book, gardeners may find the essays instructive. Booklovers are likely to feel this a cozy read, warmth for a snowy day.